Here's a Mercedes-Benz W203 GPS navigation system. It supports many functions, such as, 3G, WIFI, Bluetooth, IPod, OBD II, car speed DVR, file management, Mirrorlink and so on. Check out on: http://www.seicane.com/oem-7-inch-dual-core-pure-android-4-2-autoradio-gps-navigation-system-for-2004-2005-2006-2007-2008-mercedes-benz-c-w203-c180-c200-c220-c230-with-dvd-3g-wifi-bluetooth-k7508
Steering wheel control function helps a lot for drivers during driving. You can answer phone calls by Clicking buttons on steering wheel directly if you have connect your phone to the head unit by Bluetooth function. You can also set volume value of the head unit in the steering wheel buttons.
This function keeps your hands on the steering wheel to keep safe and concentrated during driving. If you are going to upgrade your head unit to an Android 4.2 car DVD player, here's a short guide for setting of steering wheel control.
Suppose that you have installed the unit in your car. Then, turn on the radio and go to the setting menu. Use the scroll bar to find out the steering wheel control item and enter the interface. You will see the following page.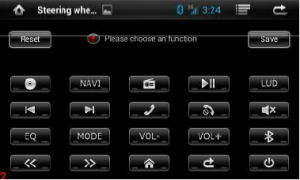 There are many icons in the interface. Before you set them, you should reset the steering wheel control first. After that, you should long press each button on the steering wheel and click related icon on the setting interface. Once the setting is successful, the related icon in the setting interface will be activated. Now, you have the setting done for steering wheel control.
It's easy and convenient to have this function in car. If you want to upgrade the old stereo to a new head unit which supports steering wheel control, you can check out this Mercedes-Benz W203 GPS navigation system at the top of the text.
It fits 2004 2005 2006 2007 2008 Mercedes-Benz C W203 C180 C200 C220 C230. And, it has many amazing functions. Its Android 4.2.2 operation system supports WIFI and 3G network. It has WIFI module for direct connection to WIFI wireless hotspots and supports optional 3g dongle. You can enjoy convenient e-life whenever and wherever for online entertainment, such as video, TV, movie, music, radio and online communication including YouTube, Twitter, MSN, Facebook and other services.
It supports Bluetooth. You can connect any Bluetooth enabled phone to the system via Bluetooth to receive hands-free calls for safe driving. It can download contact information to the unit and allow searching for a contact number in the downloaded phonebook. You can also read call history and play songs from your phone freely.
It comes with USB port and Micro SD card slot. You can play songs, watch videos, display photos and upgrade software by this function. When viewing photos, you are able to edit them in the screen. The multi-touch function makes you possible to amplify or narrow the picture freely. It would be similar to five touch function in your cell phone.
You can manage files on external storage device by selecting, copying, pasting and deleting the files. The operation would be similar to file management function in computers. It's convenient.
Here's an optional OBD II function in this unit. If you pick it with the unit when ordering, you are able to get information of the car's fuel consumption, water temperature, revolving speed, environment temperature, intake pressure, throttle position, air flow, computer load, car speed on the screen. It will display fault information in codes timely to ensure normal operation of the car system. You will find this function helps a lot, too.
Actually, there are many other wonderful functions in this Mercedes-Benz W203 GPS navigation system. You can go to website for sure and get discount of this unit. Here's the link of it: http://www.seicane.com/oem-7-inch-dual-core-pure-android-4-2-autoradio-gps-navigation-system-for-2004-2005-2006-2007-2008-mercedes-benz-c-w203-c180-c200-c220-c230-with-dvd-3g-wifi-bluetooth-k7508