It's a multifunctional Toyota Verso in dash stereo. It has many functions, such as, Bluetooth, USB, SD, IPod, DVD and so on. More on: http://www.seicane.com/in-dash-car-a-v-system-mp3-mp5-dvd-player-for-toyota-verso-built-in-bluetooth-sat-navi-auto-a-v-3g-wifi-with-stereo-upgrade-c133
Have you met the problem that after you upgraded your car stereo, the new head unit worked without sound? You found that there was nothing wrong with your head unit and the car speakers.
If you happened to have spilt type new head unit in your car, this may caused by no AUX in your original car. A split type car stereo cannot work with sound if your original car doesn't have AUX.
So, you have to check whether your car has AUX. You can go to the entertainment menu of your original CD's screen, click "entertainment", and check if there's an "AUX" in it. If not, you can check the dashboard panel, glove compartment or somewhere near the CD player to see whether there's an AUX port.
If your car doesn't have AUX, you have to add some small tools to get sound from the new head unit. In different cars, the methods will be different. In some cases, a FM audio transmitter is needed.
The connections would be a little complicated, but you can handle it. Let me take a car stereo for example. It's a split type car DVD player for Audi A4.
In the following picture(picture 1), the cables numbered 10(AUX OUT<R>) and 11(AUX OUT<L>) are the audio cables of the unit to be connected to the wires of the same color of the FM audio transmitter.(red to red and white to white).
Picture 1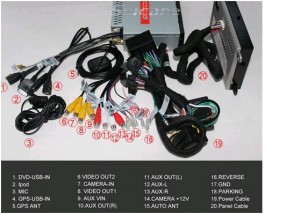 Remove the baffle-plate under the assistant driver seat, and you will find your original car's ACC wire which should be connected as the following picture illustrated.
Picture 2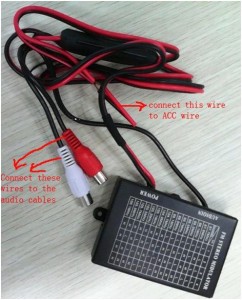 After connection, you will find the new head unit work with sound for you in your car. Please contact the car stereo dealer for the AUX issue if your car stereo is the split type one. The dealer will tell you how to deal with this problem. You will have your head unit work normally in your car at last.
The Toyota Verso in dash stereo at the beginning is an all-in-one stand alone DVD player, you don't need to worry the no sound problem will exist in your head unit. Let's check out whether it fits your car.
It's a 7 inch 800*480 touch screen car DVD player. It uses Wince 6.0 operation system. It has 3D flash graphics accelerator to achieve 3D cool three-dimensional & flash menu.
It supports rearview camera. The head unit automatically shifts the interface to the rearview camera at the moment your reverse your car. And the rearview video will show you the back of your car clearly with a color frame in the screen. The color frame is for you to judge the distance between your car and the nearest objects. If your car is too close to other objects, the rearview system will warn you by voice prompt.
It supports GPS function. This Touch Screen GPS Navigation not only can guide you by voice navigation, but also can automatically re-plan the route if you are off the road which is preset before. It will switch to the voice and come back when have the navigation prompts if the unit is in other function interface. You don't need to worry to get lost again with this new function in your car stereo any more.
It supports disc play function for DVD/DVD-R/DVD±RW/HDCD/CD-R/CD±RW/MP3/MP4/Picture CD/VCD/WMA format. The DVD function in this unit can record videos from playing menu freely. After recording, you can watch the videos in the head unit at any time.
More about this Toyota Verso in dash stereo on: http://www.seicane.com/in-dash-car-a-v-system-mp3-mp5-dvd-player-for-toyota-verso-built-in-bluetooth-sat-navi-auto-a-v-3g-wifi-with-stereo-upgrade-c133