2015-2018 Toyota Sienna car stereo GPS navigation  installation and removal guide as below will show you how to correctly and quickly install a new radio instead of old one by yourself. Or you also can easily get support from a professional to fix it.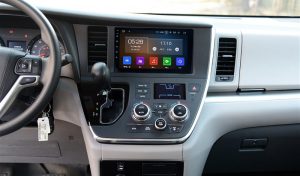 2015-2018 Toyota Sienna car GPS DVD Player after installation
Precautions:
Pleasepark the car in safe area and remove the negative cable on the vehicle battery before the remova
A lever and a screwdriver need to be prepared before the installation.
2015-2018 Toyota Sienna car radio installation guide
Use a lever to pry along the plastic panel and remove it.

Offthe panel under the 50 shift and hang it on the panel.

Remove the a/c control unitrefer to the picture.

Unplug the back connectorsof the a/c control unit.

Remove the screws holding the radio in place.

Take the factory radio out of the dashboard.

Disconnect the connectors at the back of factory radio.
Make antennas and cables connected step by step asinstructions show, and be very careful when you are doing the installation.
Put the new Seicane unit into your dashboardand check whether your connections are correct, once it's done, you'd better to have a tidy for the cables.
Check if the new Seicane unit is working well.
If there is no problem, place screws andthen put trim panel back on the new Seicane unit.
Wish 2015-2018 Toyota Sienna car DVD Player installation and removal guide above is helpful.Surely you can ask for help if you could not handle it. I'd like to recommend you an excellent 2015-2018 Toyota Sienna car stereo from Seicane if you have not got suitable one yet. Go ahead and check the link below to have look:
http://www.seicane.com/10-2-inch-aftermarket-android-radio-gps-navigation-system-for-2015-toyota-sienna-with-capacitive-touch-screen-tpms-dvr-obd-ii-headrest-monitor-control-usb-sd-bluetooth-3g-wifi-video-aux-rear-camera-s082705
This 2015-2018  Toyota Sienna car GPS navigation  comes with come with the latest Android Radio, RAM 4GB \ ROM 64GB \ CPU 8-core \ Built-in Carplay \ 2.5D IPS Screen, Support RDS, SWC, XM radio APP etc. You can still keep the steering wheel control working after the installation of this fantastic stereo.